Here's a Shortcut that I re-created tonight, unfortunately after I needed it: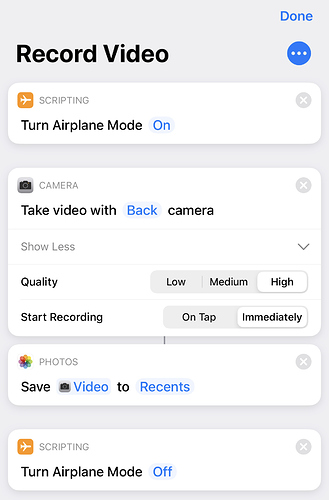 Tonight my son was in a talent show, and sang a lovely duet with a classmate.
Unfortunately I didn't get a video of the whole thing, because… (and it pains me to admit this) … I neglected to actually hit the big red button to start the recording.

Fortunately I realized my mistake before too long, but I missed the beginning.
I used to have this shortcut, but deleted it when I purged all of my shortcuts with iOS 13.
There are only three things that I wish it could do that it can't (from least important to most important):
automatically set zoom level (I would set it to 2x)

make sure that the light (normally used for the flash) is always off (because I'm usually recording in a place where it's distracting, at best)

Make sure that the video is recorded in landscape, not portrait. (If you start taking "vertical video" it will stay vertical, even if you rotate your iPhone. You have to stop the recording and start it again.)
Question: "Why turn on Airplane Mode before taking video?"
Answer: Phone Calls.
If someone calls your iPhone while you are taking a video, it will interrupt your video recording. Since there's no other way to prevent that from happening (such as Apple getting smarter about not allowing phone calls to take over the iPhone), Airplane Mode seems like the most reasonable alternative.
Once the video is finished and safely saved to your camera roll, Airplane Mode is disabled again.
---
Download Link