Update 2019-03-27: With the 2.2 update, sharing photos to a shortcut is working for me again!
Hi Folks!
I have a shortcut for food tracking that starts by sharing a photo from Photos to Shortcuts and selecting my shortcut.
Yesterday it stopped working, mysteriously, giving me errors about being unable to convert "Extension item to text".
I created a test shortcut that accepts Images and Media via share target and was able to verify that the shortcut is not receiving the photo, instead getting an "Extension item" that renders as (null) in Quick Look.
I'm running Shortcuts 2.1.3 (updated 2019-02-08) on iOS 12.1.4.
Here's my simple test Shortcut: https://www.icloud.com/shortcuts/241c81c23aa84b33a847584a96d640ce
And a screenshot of the Quick Look of the Shortcut's input: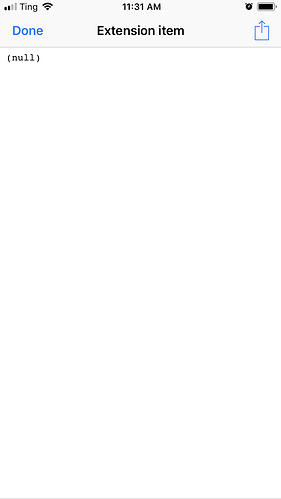 This feels like a broken permissions issue, but as far as I can tell Shortcuts has access to read and write my Photos. If I replace the share target version with a Select Photos action, the photo comes through fine.
Has anyone seen an issue like this before?
Thanks so much!