A few weeks ago I released the iOS app Pushcut which can trigger shortcuts and URLs from push notifications.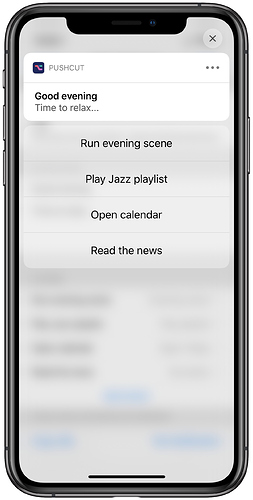 The main driver for building it was to have better control over my home automation. I felt that sometimes "fully automatic" is not working well - and what I really wanted was a way to be asked a question, or given options to choose from. Basically the right options at the right time.
With Pushcut, you can create notification definitions with multiple actions each. An action can run a shortcut or open a custom URL. The notifications can be triggered via HTTP webhook (eg: via IFTTT or Zapier, or a home automation server), and for the pro users a powerful JSON API lets you customize each aspect of the notification dynamically.
For example:
Dimming the lights automatically at sunset - not ideal.
Being asked "Hey, it is getting dark - should we run the Evening scene?" - much better.
Same goes for opening your garage or unlocking your door - that should not happen automatically when you are near your house. But a quick notification with the option to unlock can be a wonderful thing.
Of course, Pushcut is not only useful for home automation, but really any kind of automation where you want your device to be a part of.
I believe it is a great building block for automation projects and I hope you can integrate it into your setup in meaningful ways.
Check it out and let me know what you think, Automators!