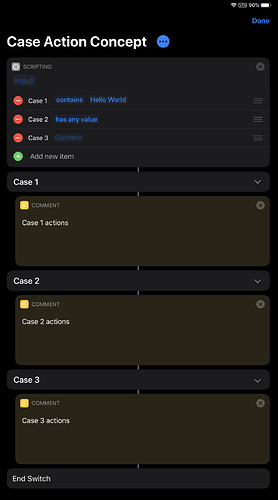 Just wanted to throw an idea out there for what I think is the missing flow control action in shortcut.
Switch/Case is a common programming concept where lots of conditions can be listed and the code block of the first one that matches is executed.
In this example, if the input doesn't contain "Hello World" but does have a value, case 2 would be run.
Having something like this in Shortcuts (a mix of a Choose From Menu action and an If action) would greatly reduce the number of nested Ifs required and make menu creation much, much easier - you could lift, drop and rearrange all the routes with ease.
If the cases were collapsible it would be even better, but let's not get ahead of ourselves…
Any thoughts?