Hello all,
I've recently transferred from Android to iPhone and hands down the biggest issue I've had is being unable to schedule texts to arrive precisely at the date and time I want them sent. While easy to do with Android phones, it appears near impossible with iPhone. I've written a Shortcut that should work but requires the Shortcuts app to be open and on the screen the entire time (making the iPhone unusable if I'm trying to schedule a message a couple days in the future). Locking the iPad/iPhone automatically turns off the Shortcut and opening up another window causes the Shortcut to time out in less than a minute. Additionally, when running this Shortcut, no other Shortcuts can be run.
Couldn't embed more than one image but hopefully this image gives perspective on my solution: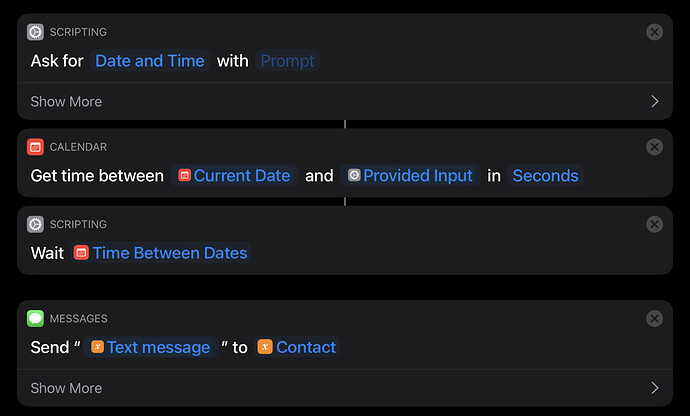 My attempted solution is similar to another person's Shortcut here: Delayed Time iMessage - Siri Shortcuts
But both of ours suffer from the same three limitations mentioned above.
My proposed solution/hope is that Apple will allow either:
Shortcuts to be easily scheduled at a certain time and date without requiring permission at that specified time.
Shortcuts to be triggered automatically from a Calendar event without permissions required at the time of the trigger event.
Shortcuts to be more easily triggered from a Reminders with set date. And for variables to be stored in the Reminders to allow for message, contact, and date/time to be automated.
Some other solution I haven't been able to think of.
Is there any workable alternative? I've been trying to figure out a solution for several hours now and can't seem to figure anything out.
Please help guide a novice Apple user to the light! Even sympathy is encouraged, as trying to figure this out and failing has been frustrating