Pulling my hair out on this one. Was stoked when I got it to work as desired in the app, go to run it via Hey Siri and she can't figure it out to save her life. "Sorry, something went wrong" or "Uh oh, there's a problem"
The shortcut scrapes Accuweather Minutecast for the current summary (eg "No precipitation for 120 minutes", "Rain starting in 13 minutes")
Troubleshooting I've done:
renamed shortcut to "banana split" to eliminate potential conflict — no change
added breaks to "step through" the code — it borks at the regex match
added a pause after the regex in case the internet call needed more time — the shortcut breaks in the regex match before it even gets to the pause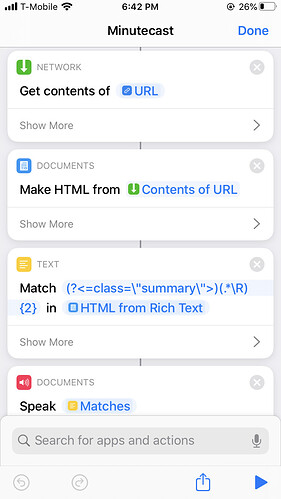 I don't know if it's breaking on the whitespace(??) I'm kindergarten-level regex so I couldn't figure out how to trim it and when I tried matching a different string I broke the whole thing, got frustrated, and came here.

The only action missing from the screenshot is the URL so I don't geographically dox myself.
Running 13.5 (yes, it's intentional)