Happy to share my latest shortcut here. I've been posting on Reddit up until now.
WatchCuts lets you trigger the running of shortcuts on your iPhone and iPad from all of your connected iCloud devices. Pair WatchCuts with Cronios — the shortcuts scheduler for iOS — and have your shortcuts run automatically when you complete tasks on your iPhone, iPad, Mac, or Apple Watch!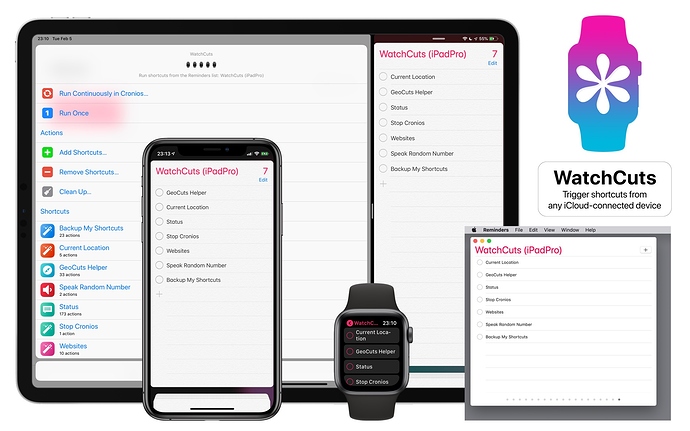 WatchCuts Trailer
Check out the WatchCuts trailer which shows how WatchCuts can automatically run shortcuts on an iPad using a Mac, iPhone, and Apple Watch.
Overview
WatchCuts works by monitoring a specific Reminders list that is shared by all iCloud-connected devices. Each task in the Reminders list corresponds to the name of a shortcut on the iOS device.
WatchCuts uses device-specific settings, so the shortcuts you trigger on your iPad can be different from the ones on your iPhone.
When you mark these shortcut-reminders as complete, WatchCuts will know which shortcuts to execute the next time you run WatchCuts. It will then re-add the shortcut-reminders back to the Reminders list so you can check them off again. When you pair WatchCuts with Cronios, you can automatically run shortcuts as you complete tasks in Reminders. Shortcuts can optionally return a WatchCuts Response which will be added to a specific WatchCuts calendar for viewing on your iCloud connected devices.
Documentation
Full documentation is available from the WatchCuts Help menu or at: https://tow.com/shortcuts/watchcuts/