Hello! Trying to achieve a layout here, running out of ideas.
I'd like to fill the top and bottom half of the widget with two different (programmatically dynamic) colors, like so: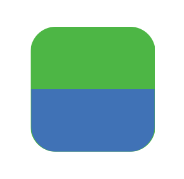 I can easily fill the whole thing, with listWidget.backgroundColor. But to override half of it with a second color, not sure what I can do. If I set the backgroundColor of a stack, it just extends out to the padding bounds of the stack, doesn't fill the whole region.
Any ideas?
Thanks!