Hi, I hope this is OK to post.
I have been working on this for a bit, going to put on the app store.

I am getting to a late stage (feature complete for now) beta, and wondered if anyone would like to try it out. Please let me know and I can give you access, ideally looking for bugs.
Requires Monterey or Later.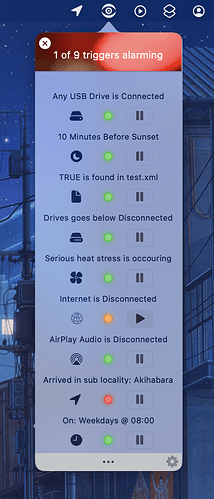 Key Features:
Simple to use, set up your first trigger in a few seconds

Powerful Environmental, Hardware and System watchers including, Time and Date, Location, AC Power, Thermal Stress, USB devices, Airplay, Displays, Network Devices, Wifi Network, Audio Devices and more.





Can save external XML files, so you can access trigger details with other apps

Intel and Apple Silicon native

Sandboxed with a hardened runtime
Its a closed beta, but let me know if you want to test.
Thanks!