I have a working shortcut right now that just gives me the list of locations in order of the shortest distance from my current location to a 10th of a kilometer.
I have previously visited locations stored by a keyed name with longitude and latitude coordinates saved in the dictionary in data jar. I then have another list in data jar of locations that I need to visit by the keyed name. My distance formula shown below is how I'm calculating the distances from the dictionary values.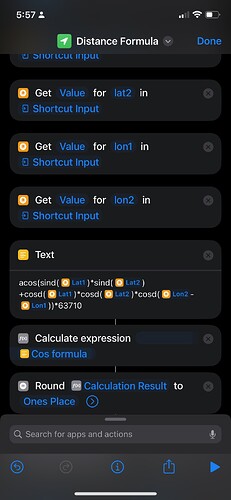 in order to speed up the run time of the shortcut I read them in from data jar once by reading the dictionary level above them And then passing the information to my distance formula shortcut to get 10th of a kilometer integers to sort.
I'm having trouble implementing a pathfinding algorithm that can do the calculations for all the different possible routes with just the shortcuts native capabilities for speed. I made a version of a stack based route by writing out to data jar but it took forever to run.
Any suggestions would be much appreciated