I would have a list of URLs. And each time I run the siri shortcut, it should automatically open 1 URL in such a way that it should be in an order 1 after the other. So it should remember what URL was opened last time so accordingly the shortcut would open next URL in the list.
It can be done either remembering the last item or just rearranging the order of the list and then simply opening 'first/last item' from the list. I am fine with either of these methods or any other method.
I want this siri shortcut to work in iOS as well as in Mac.
How to make that happen?
I have a list of URLs in this format: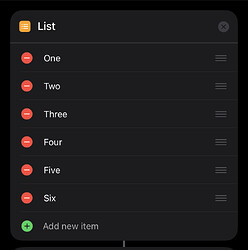 Also if the same mechanism is possible using a csv or text file, it would be fine too.
Or another thing that can work for me is, choosing a random URL. But not choosing same URL twice. Something like this. (In the linked example, it open all items one by one whereas I want to open only one item at a time) and then having some kind of reset mechanism after all URLs from the list are exhausted.