Hi,
I am trying to have a Shortcut that bridges a gap in Reminders, that Things 3 has; that being the capability for a new reminder/to-do created after the prior one has been completed. This would be on a schedule of, say 3 days from the date of the prior instances completion, at 9:00 PM. I can have the current Shortcut be created for with the new date or new time; but not both. Also! If the new date is used, I am having an intermittent error, wherein the new date causes the Alert to fail as it keeps asking for a location.
Here is a screenshot of where I am having issues: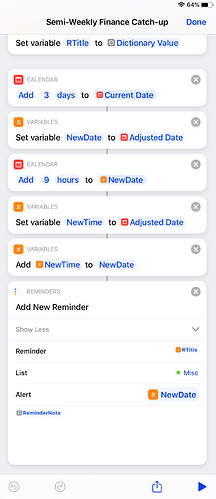 Date is formatted as Short as is Time.
The shortcut additionally is designed to look for if there is no occurrence of the Reminder title in the pass 3 days, create the new Reminder, set for 3 days from now, with the Alert at 9:00 AM.
Thank you for your suggestions.
Cheers,
Anthony