My Mac keeps turning the DnD on, is there an AppleScript to keep it off?
It is probably better to turn off whatever is turning it on in the first place.
Have you scheduled it?
Are you running a beta and linked up a focus mode switch to it?
Are you running an old version of Big Sur? There was a bug for always enabled do not disturb at one point.
Have you done something else to automate switching I to it?
I'm on Mac OS Model Identifier: iMac10,1
System Version: macOS 10.13.6 MacOS High Sierra
There is nothing turned on so…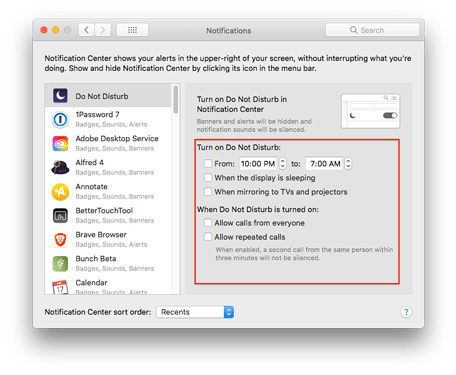 Do Not Disturb should never be in use. But every day I wake up to find DnD toggled on again. For the life of me, I can't figure out why.
Something in one of your Bunch bunches? That supports setting DnD.
I checked I've removed all references to DnD in any of my Bunch bunches.