Maybe someone of you is interested in logging the times standing up during sleep. I like to know this because i have bad sleep in last months, so i build a Shortcut. I could use pen&paper, but…

I start both Shotcuts inside another Shortcut that i trigger via Siri/voice.
There are two versions available: v2 logs date and time for each event in a iCloud-file, one line per day.

And the newest logs directly into AppleHealth (the small blue lines), with 30 seconds duration for each event.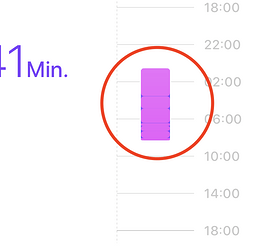 Feel free to use and comment.
Awake v2
https://www.icloud.com/shortcuts/2328cc38901a44e29cdb4879effec965
AwakeHealth
https://www.icloud.com/shortcuts/541dc41beea943ab88c106d65a2f18f1