Hello All,
My name is Cameron and like this post from @eenochs I too am a Mac user who manages both Mac and Windows machines at work as an admin in the Microsoft 365 world.
Personally, I've been using Automator, AppleScript, Keyboard Maestro and Shortcuts for years to automate a bunch of things in my work & personal lives, but Power Automate is new to me. I've found it's pretty easy to get started just like any drag-and-drop workflow tool. I am a Mac user and most of the things I want to automate, I already have solutions for, but I thought it would be good to start a discussion to find out what other people are doing in Power Automate.
A simple Flow that I've used dozens of times, is re-assigning employee's office phones. Our VOIP provider does not give us any control over device assignments, so anytime we need to change someone's phone, extension or voicemail pin we need to submit a support request.
Here's the Flow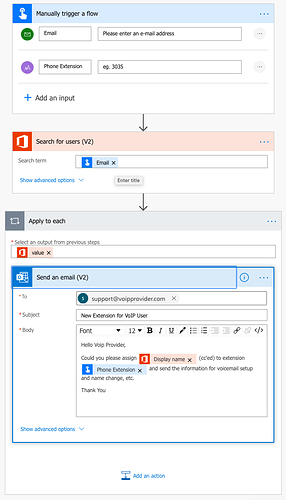 What it Does
Email voip support and cc the employee and office admin with the new phone extension. It's just a basic email template that could be achieved in many other automation apps/services, but I like doing it in Power Automate for two reasons:
The email text field input searches the company directory. Super helpful for autocomplete and making sure I don't have a typo on someone's email address.
The emails get sent on the server side, so there's no new email sheet popping for confirmation as I often trigger this on mobile.
I've got a couple others, but I'm curious to see how other folks are using Power Automate and Flow.
Cam