Can I edit the docs? I'm in the process of learning Scriptable and maybe I just can read documentation, but I write a lot of Vue.js and find their docs so helpful, with examples and use cases.
Right now I wanted to get the calender items for today, so I opend the docs CalendarEvent - Scriptable Docs (in the app) and get the following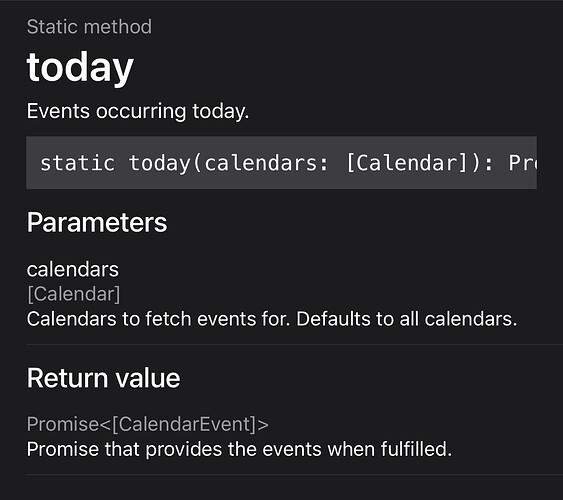 I had no idea how to use it, so I googled "scriptable today()" to go to this forum looking for an example. I would love an example in the docs looking something like:
// Get all calender items of today
const items = await CalendarEvent.today()

// Get only the Caledar items of calendar 'myCalendarName'
const myCalendar = ['myCalendarName']

const items = await CalendarEvent.today(myCalendar)

This is just an example, I've found that a lot of doc entries being like "Function X = Function X", which is fine, but I love to help, so if I could send pull requests to the docs.
I've did a quick search on github, but couldn't find anything