I see folders and compact UI when running a Shortcut. Anyone else gleam any new info?
Right. Forgot that. That is a "finally".
Plus this is another finally!
Finally they are AUTOMATIONS!!! Woohoo just sent a timed message without user interaction, phone off !!!
I was a bit early, half baked still. Location trigger still demands confirmation.
Copy actions to a new shortcut
"Connect To Power" could become a synonym for "when I'm in my office" - possibly if I add extra checking logic.
Just so long as I remember to put the phone on the charging pad when I sit down.

Yeah I figured that also, it will be something like If Battery is charged then run shortcut -> check location if location = work adress and time= 08:00 - 09:00 then do following. Will be messy but will probably work.
Just checked it. Shortcuts in iOS14 Beta 1 still require confirmation when using power as trigger.
This is my favorite thing to happen to shortcuts yet

I'm not sure how Apple still amazes me every time they implement copy and paste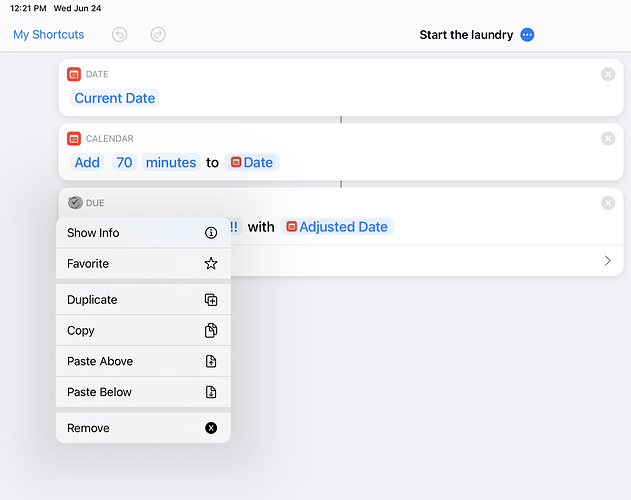 Copy and paste…my Shortcuts count will triple.
I heard it's now really easy to remove Shortcuts from the ShareSheet without having to open each Shortcut and toggle off Sharing.
Some follow-up on copy paste - in beta 1 you cannot copy groups of actions, only one at a time. The problem I noticed for a long shortcut was how slow it was to copy several actions over and over. Also, the actions retain their original variables so once you've copied over 3 chained actions you need to repoint everything.
In a future update, if you could copy a group and keep the variable relationships for that group it would make things a lot faster.
There is a new Calculate Expression action. That will cut back on a lot of actions in Shortcuts.