Good morning Automators,
me not being an expert on Siri Shortcut and basically just starting I am running into an issue this great team might be able to help me with:
I was motivated by the Automators session about journaling and as I am a user of Day One I was putting my own automation up considering certain elements I need to have covered, etc.
One of the features I wanted to add was to obtain the content of one of my calendars. That is as follows:
I am checking whether I am doing my Day One entry before 2pm - if so, I will make an entry about the day before, which concludes that I want to collect my calendar entries from the day before as well.
In my shortcut that looks as follows: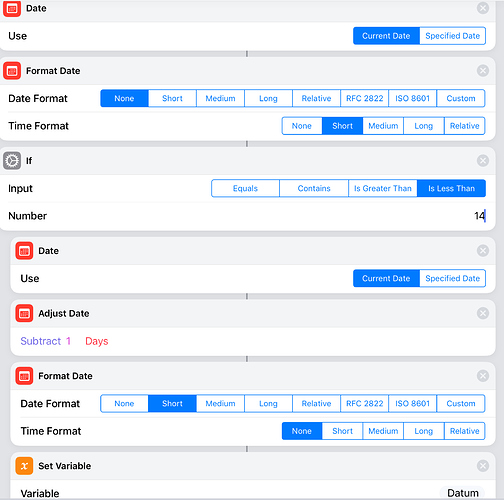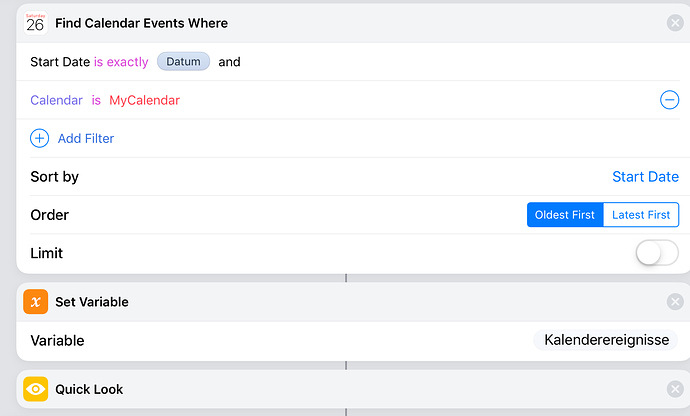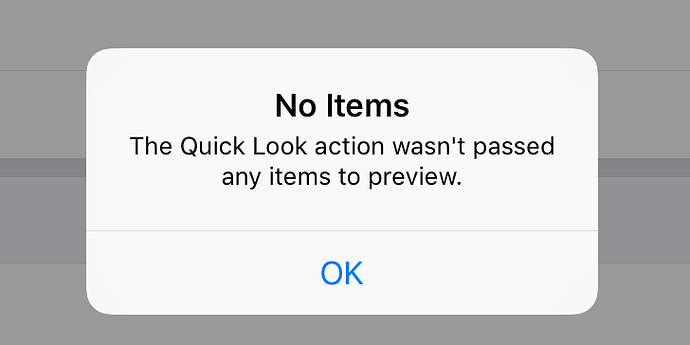 I check the current date
Format it without time stamp
Check whether it is before 2pm
if so, I use the current date, subtract 1 day and
format it without time stamp
set a variable called "Datum"
and then "Find calendar events where" start date is "Datum"
then a variable and a quick look to check
As you can see the outcome is no items were passed - however, there were 5 items during that day …
I am sure it is the variable but I also had a "Quick Look" on the variable and it looked fine without any time stamp that might screw it up.
If I do not use a variable and use just "Start date is in the last two days" it works fine but then it would also add todays items to yesterdays journal entry

Anybody here sees what I am not seeing ?
Thanks a lot for helping out, if you know the mistake I am making …
Cheers
Sven