Are you tired of the macOS lag, when you open up an external HDD in Finder (caused by initial spin-up of the drive itself)?
This Keyboard Maestro macro will create an empty hidden file on your external drive and update it's last accessed date once every 7 minutes, making it constantly spinning and therefore mitigating the initial wake-up lag: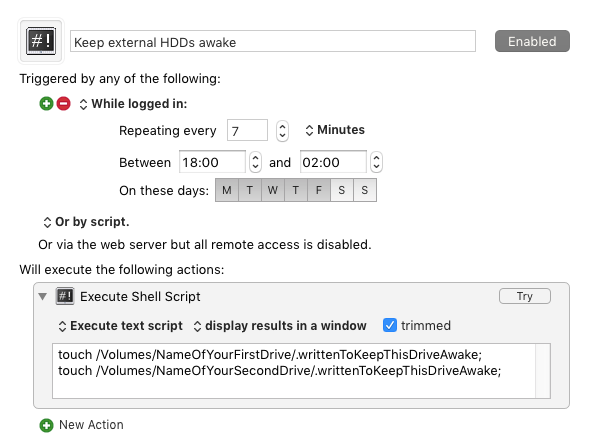 Ok, but what about these funny time intervals – you ask. Well:
Repeat every 7 minutes – I found out (by trial and error), that my external WD drives go to sleep after about 8 minutes. Setting this value to 7 minutes makes the less amount of writes while assuring that the drives are constantly awake
Between 18:00 and 02:00 – That's the timespan when my laptop is at home and connected to the drives that I want to keep awake. Be sure to set it up in a way that suits your needs.