Not a self-promotion post, just to demonstrate my goal, Email Merge in the Classroom. Please check my post above for more detail on my end goal if I am not clear below.
For the past several years, I have used a CSV file, Microsoft Word, and Microsoft Outlook on my mac to do an email merge and send personalized emails to my students and their parents every week. A ridiculous time saver vs. doing this manually, and very beneficial for all the families I work with. However, I am posting here because I am trying to replicate this process with just Drafts or Drafts and Shortcuts.
I have found @RosemaryOrchard's action group and video from an episode of Automators, which gives me hope; however, I would like to avoid having contacts entries for all of these people.
I made this shortcut, which works just like I want it to; it actually works better than the Microsoft office solution and is more convenient. But it is not repeating the process with each dictionary value, any advice on why?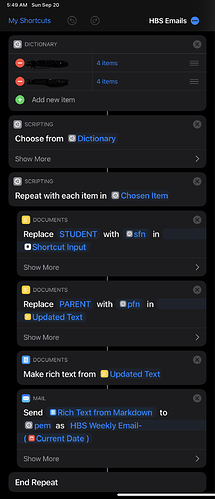 Secondarily, is there an upper limit to how big a dictionary can be in shortcuts? If I flesh this all the way out, I will have about 90 entries, each with 4 or 5 values.