I'm collecting everything I can from the device in order to be able to call an auxiliary shortcut and have it all at once in a dictionary, instead of having to get each detail one by one.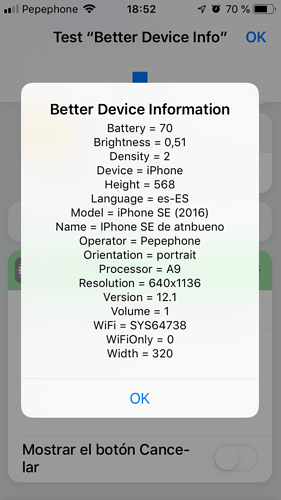 Question #1: Right now "WiFiOnly" is 0 (false) or 1 (true). Is this clear? Or would it be better to say "Wi-Fi Only" or "Wi-Fi + Cellular"?
Question #2: I can include both IPs, the internal (LAN) and the external one, but I'm not sure it would be of any use. Has anyone used these IPs for something in a shortcut? I don't want to add them just because I can.
Question #3: If there is no operator (e.g. as in a non-cellular iPad), leave the "Operator" value blank, or say "no" or "none"? I'm not sure if having always some value is any easier to understand.
Regards from Spain,
Antonio