Just wanted to give a shout out to the developers of Data Jar and Charty for Shortcuts (released yesterday) who have built a couple of incredibly useful Shortcuts companion apps that work really well when used together to store and analyze data.
I've been using them during the Charty beta to analyze Covid 19 data across countries as shown below. Interested in what other applications people are finding ?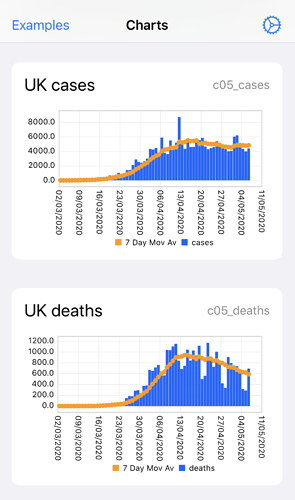 I've shared the Shortcuts I used to create these below.
Covid Country Data To Data Jar
Covid Country Charts
Chart Date Series
The first collects data for a specified set of countries (change the countries in the list near the top of the shortcut) from the web and writes it to Data Jar.
The second creates the charts shown above using the third to interact with Charty. Note that this does require the premium version of Charty, but it's only a few dollars and well worth the money.
The first of these shortcuts presented some challenges as the data source used returns a single large JSON file including the data for all countries and Shortcuts is not really the best tool for manipulating such large data sets. Try doing a Repeat With Each on this data and it takes forever. Instead it uses Regular Expressions to filter and re-format the data en masse, which is much faster. Even then it was necessary to break the data into chunks for processing as RegEx can use a lot of memory and would cause Shortcuts to crash when used across the entire data set in one go. If you still see this crashing on your device then try reducing the batch size parameter in the config dictionary at the top of the shortcut.