Hey folks.
Anyone got an IFTTT recipe running to kick off an iOS shortcut via Pushcut, by chance?
I am trying to get focused, when I activate RescueTime's FocusTime I have IFTTT fire a Webhook to my Pushcut server to activate Do Not Disturb. Each part appears to operate successfully, solo but not together.
Here's my IFTTT error: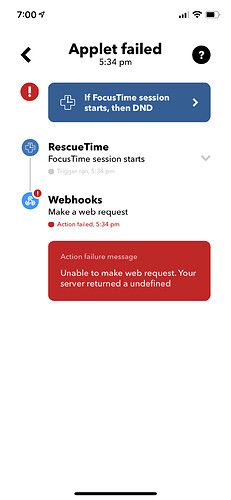 Same response with GET & POST

Thoughts, tips, suggestions most welcome…I have a reverse action too, fails with the same error, FWIW.
Happy Monday everyone.
Mark