I am trying to display a cropped part of a panoramic-like image in a widget.
The image is located here: https://i.ibb.co/bWGv3Qd/10-10-00-h572.jpg
I found a useful script snippet to crop an image with a canvas inside a webview - so far so good.
If I display the cropped image with QuickLook.present() inside the app, the image is cropped and displayed as desired.
But: if I display the image inside a ListWidget via widget.backgroundImage, two strange things happen:
the image is not cropped at all but the original one from the URL stated above is shown
the image is not displayed throughout the whole widget background but just in a small upper left corner. The image dimension are set correctly though.
Does anyone has a clue whats going on here?
The image inside the app/inside the widget looks like this: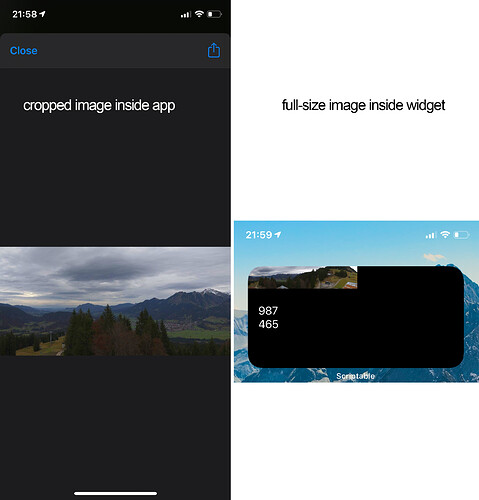 (I added the image's width and height as text to prove the dimensions)
As you can see: the image in the app is a cropped version of the upper left part of the full image - which is displayed in the widget.
Code of the script:
let fullSizeImage = await new Request("https://i.ibb.co/bWGv3Qd/10-10-00-h572.jpg").loadImage()
let croppedImage = await processImage(fullSizeImage)
if (config.runsInWidget) {
    const widget = await createWidget(croppedImage)
    Script.setWidget(widget)
} else {
    QuickLook.present(croppedImage)
}
Script.complete()

async function createWidget(croppedImage) {
    let result = new ListWidget();
    result.backgroundImage = croppedImage
    result.addText(croppedImage.size.width.toString());
    result.addText(croppedImage.size.height.toString());
    //result.addImage(croppedImage);
    return result;
}

// This function takes an image and returns a processed image.
async function processImage(image) {

    const imageId = "imageId"
    const canvasId = "canvasId"

    const js = `
  // Set up the canvas.
  const img = document.getElementById("${imageId}");
  const canvas = document.getElementById("${canvasId}");
  const w = 987;
  const h = 465;
  canvas.style.width  = w + "px";
  canvas.style.height = h + "px";
  canvas.width = w;
  canvas.height = h;
  const context = canvas.getContext("2d");
  context.clearRect( 0, 0, w, h );
  //image, sx, sy, sWidth, sHeight, dx, dy, dWidth, dHeight
  context.drawImage( img, 0, 0, w, h, 0,0, w,h );
  
  // Image modifications go here. This desaturates the image.
  //context.globalCompositeOperation = "saturation";
  //context.fillStyle = "hsl(0,0%,50%)";
  //context.fillRect(0, 0, w, h);
  // Return a base64 representation.
  canvas.toDataURL(); 
  `

    // Convert the images and create the HTML.
    let inputData = Data.fromPNG(image).toBase64String()
    let html = `
  <img id="${imageId}" src="data:image/png;base64,${inputData}" />
  <canvas id="${canvasId}" />
  `

    // Make the web view and get its return value.
    let view = new WebView()
    await view.loadHTML(html)
    let returnValue = await view.evaluateJavaScript(js)

    // Remove the data type from the string and convert to data.
    let outputDataString = returnValue.slice(returnValue.indexOf(",") + 1)
    outputData = Data.fromBase64String(outputDataString)

    // Convert to image and return.
    return Image.fromData(outputData)
}