One of the things I actually love about Raycast is that I feel like it's easier to build "mini applications" inside of it. (Importantly, I write software for a living, so I recognize that building mini apps—especially mini React apps, since that's what Raycast uses—might not be for everyone.)
I love that I can basically build a tiny form to punch in a bunch of information. (I don't think Alfred has that, but I could be wrong.) For instance, I built one local extension for creating and managing new development machines at work. I also love that I can list everything's current status and a bunch of individual actions for each item, each with their own keyboard shortcut.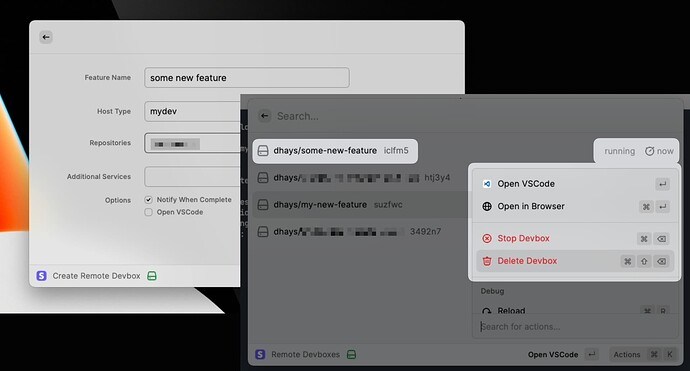 One of the newer features in their developer extensions is "menu bar commands" so that you can keep things running in the menu bar. So I built a thing that basically shows me any active pull requests that I have open or need to review.
I still have both Alfred and Raycast, but Raycast feels like it gives me so much more power, as long as I'm willing to do a little work in JavaScript. (Alfred is bound to ⌘⌘, which constantly trips me up, though. I may need to move it to something else.)
I'd love to hear if these things could be done in Alfred, though! Maybe I just missed how I'd build those sorts of things.
---
If you wanted to use Raycast, but didn't want to have to go down the rabbit hole of building an extension, you should definitely look at their Script Commands. They support Bash, AppleScript, Python, Ruby, Swift, and Node, and give you some of the same features you might see in a simpler Alfred workflow, though they can't match the complexity of some of the things you could build in Alfred.
And the last thing I wanted to mention was the extension model. I'm

aligned with Rosemary here. I really don't love the "single github repository with all the extensions in it" approach. I even went through the process of releasing one some time back. It's not too bad, but I like Alfred's open approach a bit more. You can do things outside of the extension store, but you have to go the route of cloning GitHub repos and running npm run build in them to install them locally. It's… not the best.
Anyways, sorry that was such a long reply, but just wanted to say that I think there's a lot to offer with Raycast, especially if you're already a software developer. I don't think it outshines Alfred in some cases, but like y'all said: You can have both!