i'm observing some inconsistency in text alignment and date/time formatting when running in Scriptable versus running in widget.
applyTimeStyle() properly use the system preference of 24-hour formating when run in app but fails to observe that in widget.

applyTimerStyle() can be properly aligned in the middle of the line with addSpacer() while running in app, however, the alignment is broken in widget.
i suspect the locale formatting is not observed for WidgetDate while in widget but i have yet tested out all the possible styles. does anyone have similar issues?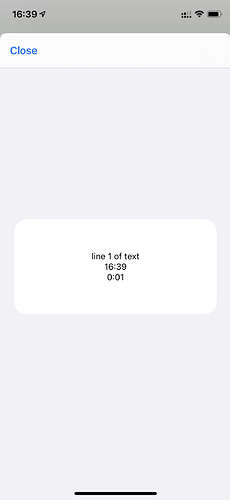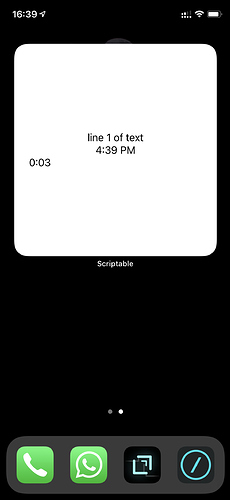 let master = new ListWidget()

let line1 = master.addStack()
line1.layoutHorizontally()

line1.addSpacer()
line1.addText('line 1 of text')
line1.addSpacer()

let line2 = master.addStack()
line2.layoutHorizontally()

line2.addSpacer()
let date2 = line2.addDate(new Date())
date2.applyTimeStyle()
line2.addSpacer()

let line3 = master.addStack()
line3.layoutHorizontally()

line3.addSpacer()
let date3 = line3.addDate(new Date())
date3.applyTimerStyle()
line3.addSpacer()

master.presentMedium()