I have a frustrating problem on both my iPhone and iPad. Both run iOS 12.1.4.
I'm trying to modify the Block Events workflow from Episode 1. The original workflow has three options in the "Choose from Menu" element. I added a fourth one without any problem. Each choice has an Adjust Date element, which I could add to the that choice without a problem. But when I drag in an "Add New Event" element, it "breaks" the flow and won't "latch" to the workflow. Instead, it is "hanging" around and when running the shortcut, it throws an error. Is there a way to make that connection? Dragging and trying to drop it on the "Adjust Date" element does not connect the two.
Here's an image illustrating the problem: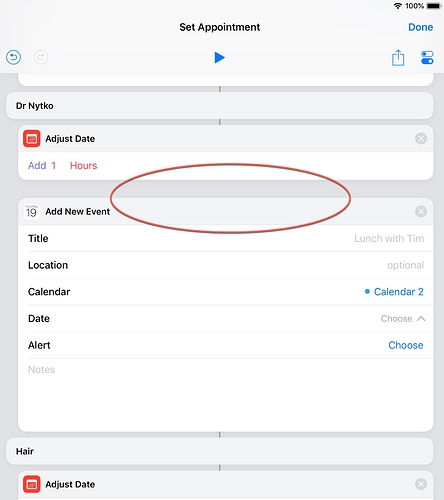 Obviously, I can rewrite the workflow from scratch, but Shortcuts should really be able to handle something this simple.
Any thoughts how to repair this workflow?
Thanks in advance for your help.