I am really liking the "Quick Action" of Automator. So convenient and so efficient to use… I do have KM and Hazel, but I am hoping to channel all of my limited (Think Old) learning curve to one Program. For reasons beyond me, Automator makes me feel comfortable and willing to do the learning curve.
The files that I work with begin with the years such as "1932 - City.pdf"or "1892 - France.pdf"…etc…
I have used a program called "A Better Finder Rename 11" to rename "1932 - BetterLife" to "BetterLife - 1932" .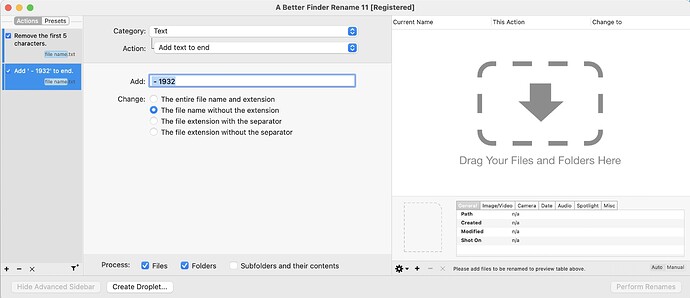 so if the year is different, I just adjust the year. Then select all the pdf's with same year and run
I would like to create a Quick action with the same thought involved.
Can someone suggest a roadmap for me to use… what is difficult for me to understand, is how do I direct Automator to copy the first five characters , then delete the first five characters and then paste them at the end of the file