Yesterday I spotted the following Tweet from @Martin_Packer.
Why did I think there was a Pro tier for @automatorsfm ?

Possibly wishful thinking.
There is an option to support the podcast through Relay.fm membership, but there are no extra Automators specific extras, whereas there are for several of the other podcasts. Presumably the podcast specific bonuses are governed by podcast audience size, host availability to create more content, etc.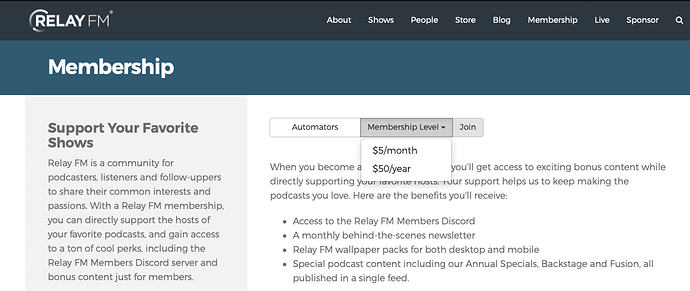 I guess there is also the option to support @MacSparky and @RosemaryOrchard through other avenues such as purchasing their courses and books.
But, I did think Martin's nod towards support of the podcast was an interesting question. I began to wonder, what the community might expect from a "pro tier" of support for the podcast?
I'm guessing most people would be thinking of a members only episode or something, but how would it differ from a regular episode? Is there somethings else that people might (reasonably) like or expect to get?