I've had a Stream Deck for a while. I got it to switch cameras when streaming video productions from a Windows computer running vMix. But now I've just listened to the recent Automators episode and wanted to give the Stream Deck a try for my everyday work.
BUT, I'm having trouble getting it to talk with Keyboard Maestro. Essentially, I can't get it to trigger KM macros and KM won't send text or icons from actions to the Stream Deck.
Everything seems to be updated to the current versions:
Stream Deck Software Version 4.8.2
Stream Deck Firmware 1.0.191203
Keyboard Maestro Version 9.0.6
In Stream Deck, I added the Keyboard Maestro action to a button (R3C3, for example). Over in Keyboard Maestro, I have created a test macro to set the title of button R3C3 to some text. That's not working.
In Keyboard Maestro, I have also tried adding the Stream Deck as a macro trigger. But when I set the trigger to a Device Key and click in the area to set the key and push the Stream Deck button, Keyboard Maestro does not register the key press.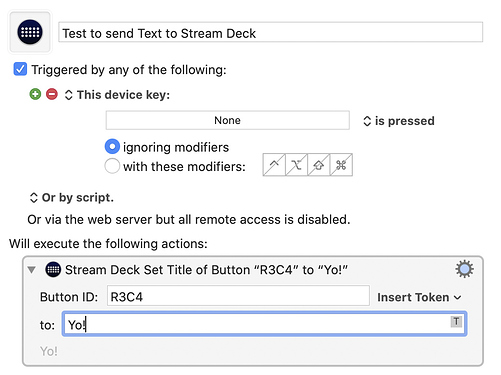 So in summary, it just seems like the two aren't talking to each other. I'm hoping that I'm just not doing something right. Any ideas on what to try? It's always hard when dealing with two different software/devices because I'm never sure who to go to first!