I'm finding myself a little bit out of my depth here with no real experience of creating shortcuts never mind APIs.
I have an API key and it works as I have tested it via the services website.
The API uses the HTTP Basic Authentication to transmit the API key. My understanding is that Basic Authentication is usually made up of a username and password pair; this API uses the API key as the username and ignores the password, so can be left blank.
There is no 'Shortcuts' example to access the API, but there is a curl example:
curl -XGET -u my_api_key: https://api.companieshouse.gov.uk/company/00000006
The instructions say you need to add a ":" to the end of the API key and then base encode it. So this is the first part of my Shortcut which I believe works.
This is my next part which doesn't work as you will see from the error below, and I've hit a brick wall.
Can anyone spot anything obvious with the Shortcut itself or how I am approaching it?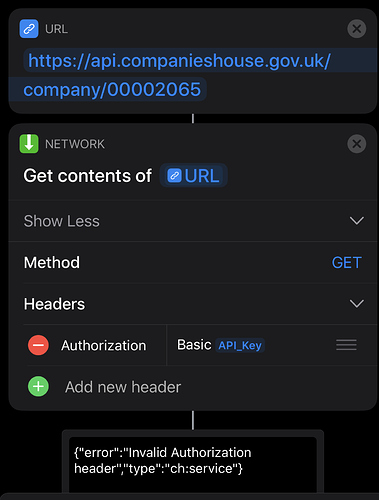 Many thanks.