Ooh, looking forward to listening to this one!
Good episode! Does anyone know what the 12-key keyboard Brett references at 48:25 is?
It sounds like he says Keybo by Pomoni, but I can find anything that matches that online (or keypo or kibo, or bomoni). Brett tone makes it sound like he is trying to remember what the actual name is.
He replied to the tweet so I'm including it here for people:
As David pointed out, you can also use any keypad or keyboard for this. I've been a huge fan of Microsoft's "sculpt" keyboard, especially once I could customize it with Karabiner (also mentioned by Brett), and it comes with a separate keypad. I've never had any use for it until now. In fact, the big advantage of the Sculpt over most ergonomic keyboards is that there is no attached numeric keyboard, so the travel to the mouse (on my right) is minimal. But now I can use the numeric keypad for all kinds of BTT shortcuts. Very cool!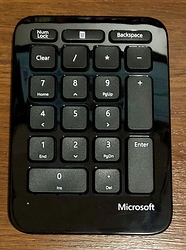 Another overkill suggestion. I got the StreamDeck during a sale. You can do keyboard shortcuts, app launches, basic sequences, app-specific layouts, and now, with a little scripting, direct Keyboard Maestro triggers. As a toy that I don't need, I'm really happy with it.
Silly question about key binding: how does it not interfere with already existing shortcuts within different apps/contexts? What am I missing?
If you're on Windows here's a great way to do that. I posted about it a while back.
As a side note, for you Windows users out there, everything mentioned in the episode about key bindings can be done very very easily with AutoHotkey.