I've mucked mine up - playing with widgets.

But I might well refurbish

it with Shortcuts.
Mine is definitely a WIP but I love the idea by @MacSparky with choose from menu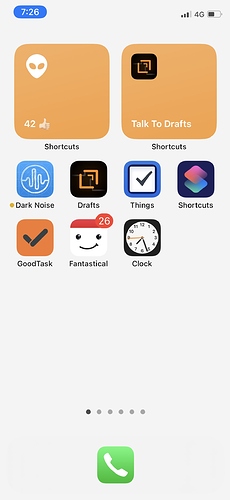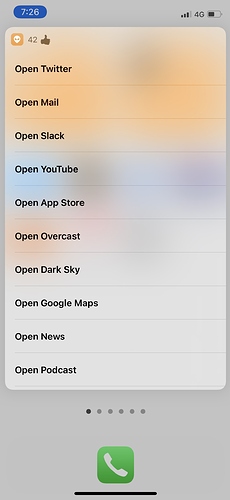 Loved this episode! Thanks for sharing the screenshots.
I have been having such a hard time with a weird bug I get when I try to be crafty like David with the "contextual" based choose from menu shortcuts. If I use the medium or large shortcuts widget, and have a shortcut that does choose from, and that chosen action is a "run shortcut" action for a different shortcut, it will perform the shortcut but the next time I go back to the widget, it has a little dialog box like it's waiting for the shortcut to complete. I can then tap the same shortcut again to force it to "finish". It has made using the new shortcuts widget so frustrating for me! Anyone have any thoughts on that? For instance, should I just avoid using "run shortcut" in that scenario or is there an action to better complete the loop there?
Screen grab of the issue here https://www.dropbox.com/s/c8droi4pmwouqvc/RPReplay_Final1601145070.MP4?dl=0
Had this too. It has no harmful effects, just looks weird.
No idea how to fix.
Also, if anyone is curious as to how my home automation setup is going…
I have Hue bulbs and lamps! Oh, and smart blinds

Yeah! it's mainly just a frustration having to click the shortcut again before I can fire off another choose from menu. Curious if David has figured out a work around with his contextual setup. I ended up abandoning it. Weirdly - it DOESNT happen with the "small" widget, only the "medium" and "large" shortcuts widgets.
Nice! I have screens 2 and 3 full of widgets, but my main home screen is still full of apps and folders, too many years of muscle memory to change that screen now.

I'm sure this has been discussed elsewhere, but how do you add those icons to the app folder names as you show in your image?
I went and did that immediately! Just use the emoji keyboard when naming your folder.
Thanks - I checked there; I just didn't see the particular glyphs in Rosemary's screenshot.
That's Dark Noise showing in that screenshot rather than Shortcuts!
Thanks for the reply. I was referring to the small icons/glyphs below the two app folders just above the Dark Noise widget. I was wondering where those came from. I've used the emoji keyboard, but I didn't see those there. Is there another keyboard you are using for those?
I had the same problem. Shortcuts that don't open other shortcuts don't have that problem.
Nope, that's the emoji keyboard!


and
are the emoji you're asking about.
Thanks - I must have looked past the headphones so many times! Finally just searched for it - and there it was… Grateful for your help.