Good stuff and timely for me. I am a project manager and I finally pulled the trigger on the Drafts subscription to solve my meeting minutes problem. Getting minutes to attendees has been such a hassle for me, and Drafts was a godsend.
For my regularly scheduled meetings with a set audience, I created an action in drafts to help me send minutes following the meeting. Here's my general flow as well as a blank action to copy if you are interested.
Edit: It seems there is no good way to share a Drafts action. Here is a screen shot to give you an idea.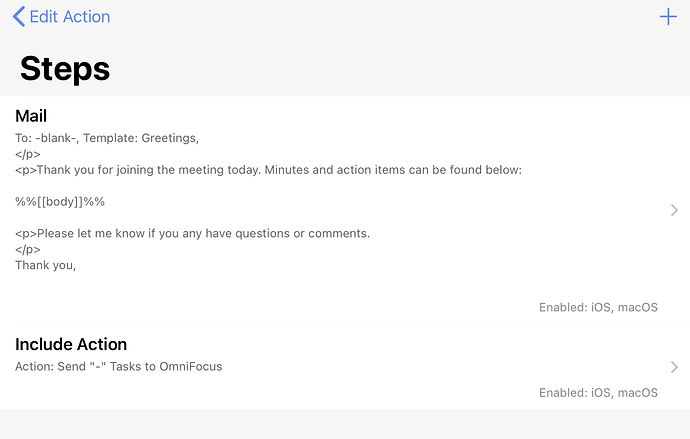 Text Expander snippet with my template (date, meeting subject, and markdown segments for the agenda, the discussion, and action items)
Take minutes during the meeting in markdown using Drafts
After the meeting, clean up my notes and select one of the Drafts actions I've created depending on which project it is for.
The Drafts action has two steps - the first is to generate a markdown email with a list of attendees and cc: audience pre-populated in the action. The Draft is also prepended and appended with a salutation (thank you for joining today, etc.)
I stole David's OmniFocus "-" action to look for action items with my name ( "- Chad to" XYZ) which turns those into tasks and sends them to my Omnifocus.
Last, the note is assigned a tag by project and archived.
For ad-hoc meetings throughout the week, I typically open a draft and start typing during meetings. I created a shortcut that looks for calendar events from today, I choose one, it grabs the attendees, I then search drafts for the associated minutes, and an email draft pops up for me to send out. Lastly, it will run the Omnifocus "-" action to send my tasks to my inbox. Enjoy.